Want to be the first to see the next generation of the Israeli tomato and be impressed by the new variety portfolio of Hazera? Join us for a unique opportunity and meet our team for a deeper understanding of the quality, performance and potential of Hazera's new varieties.
The exhibition in the Arava is the perfect opportunity to get a glimpse of the future of the Israeli tomato with "Rubicon"/ "Doria" – a new Saladette tomato variety that is suitable for picking in a cluster. The tomato is delicious, firm, has a long shelf life and excellent preservation on the plant, as well as a bright red and attractive fruit.
Rubicon ("Doria"): from the grower to our plate. Photograph: Ofer Hajub
In addition to "Rubicon", Hazera- a world pioneer in the seed industry, will launch the "Yellow Whitney" – the heart tomato that made Israelis fall in love and is now available in red and yellow. The Yellow Whitney is the first yellow Midi Plum tomato of its kind – it is extremely tasty, has impressive yellow fruit, is very firm and crunchy and has a strong plant and a high yield.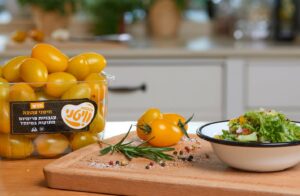 Yellow Whitney. Photograph: Ofer Hajub
Come see and taste! Still young at heart, the queen of flavor, The "Maggie" tomato, is ringing in its first decade with a party! Maggie is known as a high-quality Israeli tomato, with a juicy green gel, which gives it a fine taste and rich aroma. Maggie is grown throughout the year nationwide in Israel among selected farmers only and packaged in a closed and marked package – and now with a new branding in honor of its 10-year celebration.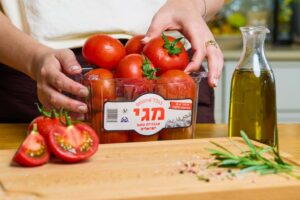 Maggie "the Taste" Tomato. Photograph: Ofer Hajub
At the exhibition, Hazera will launch new varieties of radishes: "Whitella" in white and "Purpella" in purple: round radishes for growing in open and closed areas, with impressive and strong colors, suitable for growing all year round with a high yield and excellent internal quality.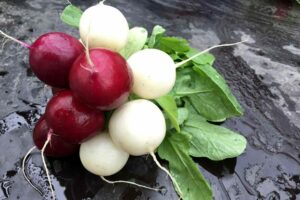 New radish varieties. Photograph: Hazera
Come and get an impression of a red, curly romaine lettuce: "Purple Heart". Beyond the nutritional benefits of romaine lettuce, which is 5 times richer in vitamins than other types of lettuce, the variety "Purple Heart" is characterized as crunchy and extremely tasty and has a bright red color that penetrates deep into the leaf.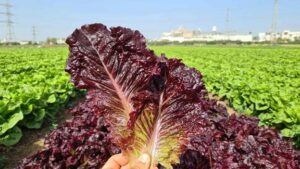 "Purple Heart". Photograph: Hazera
Come and meet the team of Hazera at the Araba expo taking place on February 15 and 16 in Ein Hatzeva, Israel and join "Rubicon" /"Doria" on her fresh produce journey from the field, to the retailers, and straight to her kitchen!